Today's video was inspired by my recent discussions of The Shack and Your Best Life Now. It considers when imperfect Christian books are still worth reading and when we ought to skip them. The weekly podcast looks at Joel Osteen's view of the importance of our thoughts and words. And the links cover pleasing God and giving to the poor, singleness and happiness, secularization, the national epidemic of opiate addiction, and more!
(If you receive these posts by email and aren't seeing the video and podcast, just click the "Thursday Roundup" title to view the original post on my site.)
"It's easier to avoid temptation then to resist it."
~ Bill Shannon
Latest Video
What should we do when a Christian book has truth mixed in with error? When is it worthwhile to separate wheat from chaff, and when is it best to just walk on by? In this video, I suggest three things to consider as we decide whether to read a popular Christian book.
Want to see all my videos? Visit my channel or subscribe.
Answers for Ambassadors Podcast
Part 3 of Your Best Life Now is all about the power of our thoughts and words. Joel Osteen is right that how we think and speak is important, but he misses the biblical mark in three important ways which this episode explores.
Answers for Ambassadors is available via SoundCloud or by searching in iTunes and most other podcast players. You can also direct your podcast player to the podcast RSS feed.
Best Reads of the Week
"Yes, you can please your Father," Kevin DeYoung reminds us. "It's good to want to protect justification, but don't do it at the expense of a dynamic relationship with your heavenly Father."
A good piece on "5 Gifts I've Found in My Singleness."
Denny Burk on where happiness comes from.
Very helpful suggestions from Randy Alcorn about giving to the poor despite the ever-present possibility of waste or misuse. "Every good thing can have a bad effect. The solution isn't to avoid sponsoring children or to never support national ministries, but to exercise great care."
I always enjoy Michael J. Kruger's articles about the development of the New Testament. In this piece, he considers evidence that the author of the Gospel of Matthew saw himself as writing Scripture, even though he never explicitly claimed to be doing so. Another piece of evidence that Kruger could have mentioned is the division of Matthew's Gospel into five clear sections, intentionally mirroring the Old Testament Pentateuch.
This is a good backgrounder on the conflict within the Southern Baptist Convention over Russell Moore, head of their Ethics and Religious Liberty Commission, who has raised the ire of some denominational leaders by speaking against Donald Trump.
A depressing and convicting look at the scourge of opiate addiction in America. Pray for those caught in addiction, and for those who help them fight it.
Peter Beinart writes a fascinating analysis of the secularization of America from a nonreligious, liberal point of view. "When cultural conservatives disengage from organized religion, they tend to redraw the boundaries of identity, de-emphasizing morality and religion and emphasizing race and nation."
Amazon Affiliate Link
Anytime you start shopping on Amazon.com by clicking through this affiliate link, you'll be helping to support my work at no extra cost to yourself. If you bookmark the page that opens after you click the affiliate link, you can use that bookmark each time you shop!
Photo of the Week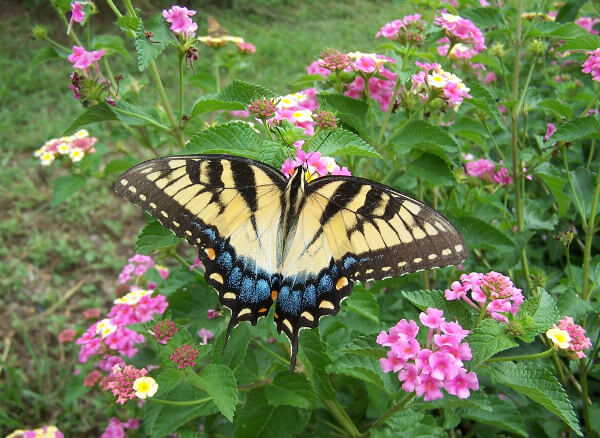 A Tiger Swallowtail enjoying the blooms of a lantana bush that used to grow in my mother's yard.
(Check out other photos at my Etsy shop.)
Did you enjoy this article? Add your email below to get new posts sent to your inbox!