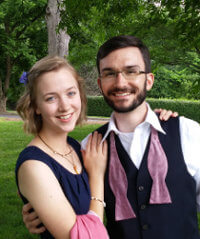 About David Vogel
Welcome to my site! I've been a teacher and writer for most of my adult life, starting with a couple years in newspaper journalism and blogging before founding an educational small business in 2007 to teach logic, writing, and Christian apologetics to homeschoolers. I started DavidVogel.net in 2013 as a hub for my work as a Christian writer and speaker, and I've been grateful to be able to devote increasing amounts of time to writing, podcasting, and teaching here.
If I am not working or enjoying time with my wife, Leah, I am probably reading, muddling through a DIY chore around the house, or going for a hike. I loved working for several summers as a raft guide in the North Carolina mountains, and I still enjoy heading to the mountains whenever we can. (For some reason, Leah is unenthusiastic about returning to spend another summer in a tent near the river, though.)
Leah and I live in North Carolina and attend a Reformed Presbyterian church where I serve as a deacon and Sunday School teacher. We welcomed our first child, Esther, in 2017.
About the Site
DavidVogel.net serves as the hub for a writing and speaking ministry that includes videos, podcasts, webinars, speaking engagements, articles, and a book (all of them linked above or in the sidebar).
If you like my work, subscribe below to receive new blog posts by email.