Today's roundup starts with a video about the Old Testament law and its application to us today. The Answers for Ambassadors podcast considers the Christian idea of God while responding to Chapter 2 of The God Delusion. And the links of the week cover the growing phenomenon of voluntary male unemployment, the unexpected fruit of religious persecution in Iran, the benefits of family worship, and the pros and cons of voting for Donald Trump.
"Outside the will of God, there's nothing I want.
Inside the will of God there's nothing I fear."
~ A.W. Tozer
Latest Video
This week's YouTube video explains the different kinds of Old Testament law and how they do or don't apply to us today. It's an important topic to understand, both so we can respond to unbelievers who accuse us of hypocrisy for following some parts of the law but not others, and so we can live moral lives as New Testament Christians.
Want to see all my videos? Visit my channel or subscribe.
Answers for Ambassadors Podcast
In Chapter 2 of The God Delusion, Richard Dawkins surveys different ideas of God and says he opposes all of them. In this episode, I respond to his ideas while looking at why it is easier to attack an idea than to defend it, why the worldwide religious shift toward monotheism points to Jesus, and why Christians believe in the Trinity.
Answers for Ambassadors is available via SoundCloud, or by searching in iTunes and most other podcast players. You can also direct your podcast player to the podcast RSS feed.
Best Reads of the Week
George Will considers the "quiet catastrophe" of voluntary male unemployment. He writes, "This 'eerie and radical transformation' — men creating an 'alternative lifestyle to the age-old male quest for a paying job' — is largely voluntary. Men who have chosen to not seek work are two and a half times more numerous than men that government statistics count as unemployed because they are seeking jobs." In a culture in which work is neither socially expected nor necessary for survival, many men won't. Only a counter-cultural Christian understanding of vocation has the power to change the trend.
Marvin Olasky and the WORLD Magazine editors have written a powerful editorial calling on Donald Trump to step down. "We know that many Christians, including some of our readers, will say that given the judicial stakes it's wrong this year to draw a line in the sand. Our call for a different Republican candidate will lose us some readers and donors. But, standing before God, we cannot say that what WORLD argued concerning a Democrat in 1998 should not apply to a Republican in 2016." And, speaking of editorials about Trump, Christian philosopher Wayne Gruden just retracted his widely shared pro-Trump article from a couple months ago.
I know we're all tired of talking about the presidential election, but this thoughtful article does a good job addressing the "God can use anyone" justification for voting for Trump. At this point, I'm less worried about who wins the election and more concerned with how our testimony and theology are being distorted by political stresses. I have friends who are passionately in the "vote Hillary to beat Trump" camp, others who are passionately in the "vote Trump to beat Hillary" camp, and still others who are with me in the #NOTA2016 camp, and I'm sympathetic to all those positions. It's a mess of an election and we need prayer and wisdom to navigate our options. We should respect Christians who reach different conclusions, but let's at least work to ensure we are making our decisions based on sound biblical reasoning.
On a more positive note, this article is incredibly encouraging: 5 Ways Persecution in Iran Has Backfired.
This is a good piece on the benefits of regular family worship. A healthy church and a healthy culture both start in the family.
Stuff I Like (Affiliate Link)
Last winter, my wife and I bought two of these wall-mounted heaters. They are basically just a paintable ceramic plate which is screwed into the wall and heats the air at very little electrical cost. They aren't super powerful, but they will heat a smallish room (up to about 120 square feet) if you give them time to get warmed up. We use them to heat our bedroom overnight, allowing us to leave the heat very low in the rest of the house. I highly recommend them for that sort of application.
And remember, anytime you start shopping on Amazon.com by clicking through this affiliate link, you'll be helping to support my work at no extra cost to yourself. If you bookmark the page that opens after you click the affiliate link, you can use that bookmark each time you shop!
Photo of the Week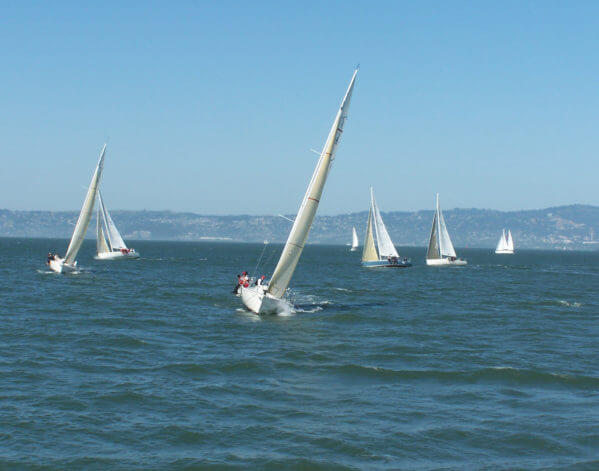 I took this picture one of the first times I was in California visiting family. I was on a ferry going across San Francisco Bay when suddenly we were intercepted by a flock of sailboats!
(Check out other photos at my Etsy shop.)
Did you enjoy this article? Add your email below to get new posts sent to your inbox!