There's no Answers for Ambassadors podcast this week (but check out the new book I'll be talking about next week!), but I hope I made up for that with a long and interesting video discussion about slavery in the Bible with an atheist writer. The links of the week range across singleness, same-sex attraction, Milo and CPAC, liberal education, when silence is the best response to outrage, and more!
Also, don't miss my new live, online Christian apologetics classes. I'm very excited to be offering these new trainings, intended for ages high school through adult and designed to be convenient and affordable. Each class will address some particular apologetic topic over the course of a few evenings. The first five classes are covering theistic arguments, Islam, Mormonism, homosexuality, and the Old Testament. Click the link above to learn more!
(If you receive these posts by email and aren't seeing the video, just click the "Thursday Roundup" title to view the original post on my site.)
The early Christians did not say "look what the world is coming to!" but "look what has come into the world!"
~ Carl F.H. Henry
Latest Video
For this week's discussion video I spoke with Dan from FizzingAtoms.com about why God didn't just ban slavery in the Bible. It was a great discussion and I think you'll enjoy listening. (We went on a bit of a tangent from 10:50 to 24:20, talking about why God commanded his people to war against the Canaanites, the same topic I discussed with Jim Wall a few weeks ago, so you may want to skip past that part.)
Want to see all my videos? Visit my channel or subscribe.
Answers for Ambassadors Podcast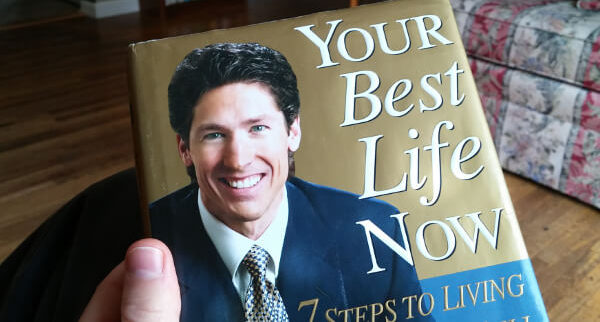 As I said in last week's podcast, I'm taking a week off to read and prepare for the next book I'll be discussing. As you can see above, I've made my pick! I'm a little nervous about the potential to give offense, but I'm also quite excited to talk about "The Smiling Preacher" and what he gets right—and what he doesn't. (Even if you're quite settled in your opinion of Joel Osteen, you should give the first episode a listen. There may be more to talk about than you think!)
Answers for Ambassadors is available via SoundCloud or by searching in iTunes and most other podcast players. You can also direct your podcast player to the podcast RSS feed.
Best Reads of the Week
Excellent piece from Jennifer Grisham: "5 Things Singles Wish Married Couples Knew." I want to quote my favorite part, but that would mean quoting the whole article…
This video of testimony from Sam Allberry, associate pastor of St. Mary's Church in Maidenhead, England, is short but powerful. "I am same-sex attracted, and have been my entire life…"
Michael Brown offers advice to the church worldwide, outlining five ways in which the American church failed to respond effectively to the LGBT movement.
Thoughts from Adam Parker about when a balanced, prayerful silence is the best response to outrage. I think he is right that our cultural obsession with virtue-signalling outrage often stems from confusing our role with God's in the administration of justice.
I posted Tim Challies' article about The Shack and the Second Commandment last week. You might also be interested in his follow-up piece explaining the difference between C.S. Lewis' Aslan and the personified Trinity in The Shack.
Perhaps you've followed the brouhaha this week over the Conservative Political Action Conference's invitation and then disinvitation of "the right-wing provocateur Milo Yiannopoulos, a gay cross-dressing Catholic part-Jewish Brit who likes to boast about his sexual appetite, favors 'ironic' racial and misogynist humor, and not occasionally describes the president of the United States as 'Daddy.'" Ross Douthat offers some depressing but insightful observations about what Milo's newfound prominence says about American conservativism. Ben Shapiro adds a warning against endorsing someone just because they have the right enemies.
I enjoyed reading this piece from Justin Klazinga on the value of what used to be called a liberal education. His observation that a highly specialized education (as opposed to a liberal one) creates a population which demands "leisure pursuits that require very few prerequisites" is particularly compelling. "Liberal education remembers that man is more than simply his place in the economy and thus puts more thought to how he is to live when he is not working."
According to the Washington State Supreme Court in last week's ruling in Washington v. Arlene's Flowers, Christian florists must be compelled in the name of anti-discrimination to participate in celebrating same-sex wedding ceremonies which they consider immoral. David French has a good legal analysis of the case, and Denny Burk speaks from personal experience about where such rulings are headed. We must pray for a faithful testimony and national repentance!
Amazon Affiliate Link
Anytime you start shopping on Amazon.com by clicking through this affiliate link, you'll be helping to support my work at no extra cost to yourself. If you bookmark the page that opens after you click the affiliate link, you can use that bookmark each time you shop!
Photo of the Week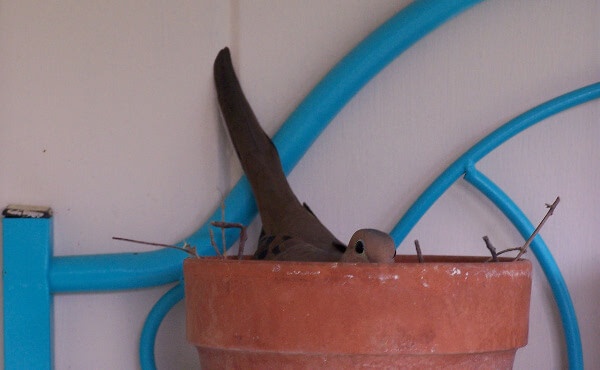 This mourning dove and her mate nested on our porch last spring. Leah and I enjoyed watching the babies grow up, fledge, and fly away.
(Check out other photos at my Etsy shop.)
Did you enjoy this article? Add your email below to get new posts sent to your inbox!