A brief programming note: I'm going to be teaching a free three-evening online seminar in early December on reasons for trusting the Gospel accounts. We'll look at whether the Gospels bear the marks of accurate history, how we have a clear picture of what the original manuscripts said, and why the early church chose the 27 books that make up our New Testament canon. Click here for more information or to register. If you think friends might be interested, I would greatly appreciate if you shared the link!
Today's video takes a careful look at a perennial favorite question of skeptics: If God is all-powerful, can he create a rock too heavy for him to lift? The Answers for Ambassadors podcast continues my examination of Dawkins' arguments that we cannot trust the Gospel accounts, and the links of the week range from joy to missions to, of course, Donald Trump.
(If you receive these posts by email and aren't seeing the video and podcast, just click the "Thursday Roundup" title to view the original post on my site.)
"He therefore is the devout man who lives no longer to his own will, or the way and spirit of the world, but to the sole will of God, who considers God in everything, who serves God in everything, who makes all the parts of his common life parts of piety by doing everything in the name of God and under such rules as are conformable to His glory."
~ William Law
Latest Video
It's a classic brain-twister challenge to the Christian idea of an omnipotent God: Is God powerful enough to create a rock too heavy for him to lift? It may seem like a silly logic puzzle, but for some people it's a compelling, troubling objection, so we ought to be ready to offer a logical answer to this question and others like it.
Want to see all my videos? Visit my channel or subscribe.
Answers for Ambassadors Podcast
Can we trust the people between us and the original authors of the Bible? Dawkins argues in The God Delusion that fallible scribes with their own agendas corrupted the manuscripts upon which our modern Bibles are based. He also accuses the early church of playing favorites by picking four Gospel accounts while leaving others out of the canon. This episode evaluates both objections, looking at the manuscript evidence and how the New Testament canon developed.
Answers for Ambassadors is available via SoundCloud or by searching in iTunes and most other podcast players. You can also direct your podcast player to the podcast RSS feed.
Best Reads of the Week
I'm guessing most of you are not considering heading south to become missionaries, but it is still worth reading "4 Reasons We Became Missionaries to Latin America" for Justin Burkholder's thoughtful discussion of modern missions and the particular needs of Latin America.
This is a fantastic article about Christian joy and how to cultivate it.
"Transgender Conformity" is a long read, but it is worth bookmarking for a thorough overview of the philosophical background of and medical concerns raised by the transgender movement, as well as the way that civil rights language and laws are being co-opted to push an agenda with very little scientific foundation.
Good analysis: "Trump won because college-educated Americans are out of touch." But we need to be careful how we talk about (and to) the mourning Clinton supporters whose excesses, rhetorical and otherwise, have been the subject of much social media merriment among Republicans. Jordan Standridge writes a convicting reminder not to mock your mission field.
Thomas Kidd offers some thoughts on what political life looks like for evangelicals after Trump's victory.
James Faris' article is about racial reconciliation, an important topic in itself, but "Start where you are. Use what you have. Do what you can" is a wonderful distillation of what Christian service looks like in any area.
Stuff I Like (Affiliate Link)
I stumbled across the Bag Butler a couple years ago and have been wearing it out with yard work ever since. It's a simple concept—just a piece of sturdy plastic which can be unfolded to create three perpendicular sides, ready to be inserted into a yard-waste bag to magically create a temporary trashcan. Anyone who has ever struggled to bag leaves or trimmings will feel the appeal of stuffing yard waste into an upright trashcan rather than a floppy bag…
And remember, anytime you start shopping on Amazon.com by clicking through this affiliate link, you'll be helping to support my work at no extra cost to yourself. If you bookmark the page that opens after you click the affiliate link, you can use that bookmark each time you shop!
Photo of the Week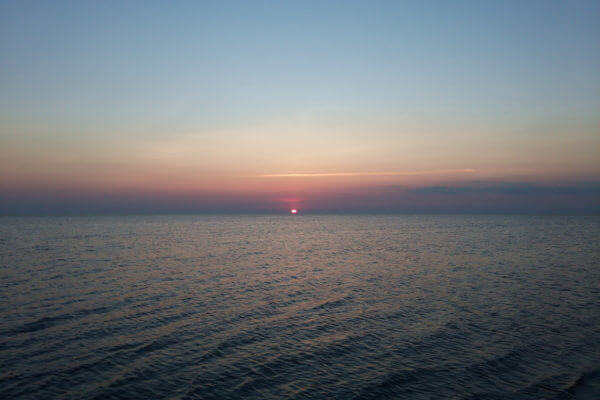 Watching the sun set over North Carolina's Pamlico Sound.
(Check out other photos at my Etsy shop.)
Did you enjoy this article? Add your email below to get new posts sent to your inbox!