It is time for evangelical Christians to unite to actively pray that Donald Trump does not win the Republican presidential nomination.
This isn't about policy. The Bible leaves room for disagreement and debate over important political questions. But this is about character, and about whether serious character flaws should be disqualifying for the presidency of the United States. This is about a candidate who claims to be a Christian and asks for Christian support, yet lives a testimony of vulgarity and unrepentant sin. And it's about our testimony, as Jesus' followers, if Donald Trump wins with Christian votes.
When Bill Clinton was in office, we said character mattered in a president. Did we mean it? Because Donald Trump is the guy who decided that what his casino really needed was a strip club. Trump is the guy who thinks violating marriage vows is something to be proud of, boasting about "my experiences with women, often seemingly very happily married and important women." Yet Trump says he has never asked God for forgiveness for anything.
Marriage vows aren't the only ones Trump has broken. His business career is littered with broken promises that hurt contractors and employees, and he routinely lies about self-funding his campaign.
Another Trump lie came when he denied mocking a disabled reporter who had been critical of him, even though the moment was caught on video. That sort of petty cruelty and vulgarity are par for the course for a candidate with a habit of dropping the crudest obscenities at campaign rallies and personally typing out childish Twitter insults at anyone who irritates him. When Proverbs warns of the fool whose "anger is known at once" (Proverbs 12:16) and who is "hasty in his words" (Proverbs 29:30), it's hard not to see Donald Trump in the warnings.
If it is possible for deep, unrepentant character flaws to disqualify any candidate, Donald Trump is that candidate. And the fact is, Trump simply cannot win without the support of professing Christians. That means either he loses or we get to explain to our children why Jesus' followers elected a vulgar, perverted, arrogant fool to be president of the United States. If Trump wins, it's partially on us. This isn't just about our country; it's about our testimony.
Christians have lost credibility in public debates over issues like abortion and the sanctity of marriage because the culture, and even our children, don't think we really mean it. They've seen the American church sacrifice principle for power too many times. If Christians pull the lever for Donald Trump this election, what are we telling a watching world we really care about?
If the idea of reading newspaper headlines saying "Christians Elect Donald Trump" troubles you (and that is exactly what the headlines would say), then do something about it. Inform yourself by reading the links above and share this article with friends so they know the facts about who Donald Trump is. But, more importantly than that, pray. Trump's victory or defeat rests in the hands of our fellow believers–who also read their Bibles, who also pray, who also try to follow the Lord's will. In coming weeks, I am going to be praying hard that God will give his people real discernment into the character of Donald J. Trump. I hope you'll join me.
UPDATE: If you're thinking, "Well, at least Trump is pro-life. He can't be that bad." Well… It's complicated.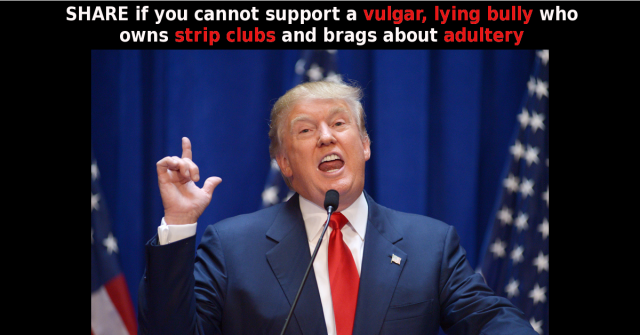 Did you enjoy this article? Add your email below to get new posts sent to your inbox!