The campaign to defund PP "relies on the assumption that abortion is to be whispered about." #ShoutYourAbortion
On Saturday, a tweet from writer Lindy West created the #ShoutYourAbortion hashtag to encourage women to talk about their abortions. Her hope was that open conversation would help to overcome the stigma of abortion. As she explained in an article in The Guardian,
The fact that even progressive, outspoken, pro-choice feminists feel the pressure to keep our abortions under wraps – to speak about them only in corners, in murmurs, in private with our closest confidantes – means that opponents of abortion get to define it however suits them best. They can cast those of us who have had abortions as callous monstrosities, and seed fear in anyone who might need one by insisting that the procedure is always traumatic, always painful, always an impossible decision. Well, we're not, and it's not. The truth is that life is unfathomably complex, people with uteruses own their bodies unconditionally, and every abortion story is as unique as the person who lives it.
My opposition to abortion stems from concern for the people within uteruses–the children for whom the idea of "living" an abortion story is sickly ironic. But while I am appalled by Ms. West's sentiments, I do agree with one of her opening observations: "Not talking about our personal experiences with abortion wasn't conscious." No, the extreme reluctance of almost everyone on the pro-choice side to actually talk about what abortion is and does, as illustrated by the media's allergic reaction to the recent Planned Parenthood undercover videos, is not at all "conscious." If Ms. West wants to start a conversation about abortion, I am all for it.
In her article she wrote,
There are no "good" abortions and "bad" abortions, because an abortion is just a medical procedure, reproductive healthcare is healthcare, and it is a fact without caveat that a foetus is not a person. I own my body, and I decide what I allow to grow in it.
Ms. West is quite right on at least one point; she does own her body, and, legally, she can decide whom she allows to grow in it. But there is still the fact that, when she had her own abortion, she had something growing inside her, and after that abortion it was no longer growing–would never grow again, because it was dead.
I am curious what that something was. Ms. West declares categorically that "a foetus is not a person," so what is it? By definition, the term "fetus" merely refers to a developmental stage. When I worked at a stable, I saw ultrasounds of fetal horses. Perhaps you have encountered a fetal pig in biology class. What sort of fetus was growing within Ms. West? Unless humans reproduce along radically different lines from other mammals, it could only be a human fetus.
Of course, Ms. West guards against the obvious by denying, not that an aborted fetus is human, but that he or she is a "person." Humanity can be settled with a simple DNA test, but personhood is more of an abstraction and is therefore harder to pin down. But a simple question may be helpful: Does Ms. West believe that a two-year-old child is a person deserving of basic protections, such as the right not to be dismembered in the name of "reproductive healthcare"? If so, and if she believes a fetus is not a person and therefore should not enjoy such protections, then there must be a moment at which the non-person becomes a person. What would that point be?
If you are pro-choice, I want you to answer that question in your mind. I realize it may be a different point for different people. For some, it is the moment when the unborn child emerges from the birth canal. For others it coincides with fetal viability. Others choose some other point between conception and birth. Wherever your "personhood point" is, please imagine a fetus who has reached that point. Picture the child which you and I agree is now a living human person, deserving our protection and care. Now rewind one day earlier and imagine picking up a scalpel and killing that child.
But no, wait, it is not a child yet. It will be a person, a human child, tomorrow, but today it is just a fetus, so killing it is perfectly fine. Just be careful to keep your mental image of today's fetus distinct from the image of tomorrow's human baby, because they are going to look pretty identical and you would not want to get mixed up and kill a living human child.
Abortion says to every newborn baby in every hospital in the country, "We could have ended your life, after you were conceived, after you had begun growing, as long as the poison or scalpel got to you soon enough." So go ahead, #ShoutYourAbortion, but remember that every abortion story is as unique as the person who did not survive it.*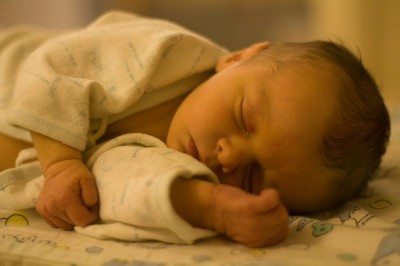 * If you have had an abortion yourself, and if you feel more like weeping than shouting, please know that you can be forgiven. The Apostle Paul, after warning that "the unrighteous will not inherit the kingdom of God" and describing the sins his readers must avoid, added, "Such were some of you; but you were washed, but you were sanctified, but you were justified in the name of the Lord Jesus Christ and in the Spirit of our God" (I Cor. 6:11). God rejects those who make light of their sin, but his hand is extended in mercy toward those who repent.
Did you enjoy this article? Add your email below to get new posts sent to your inbox!