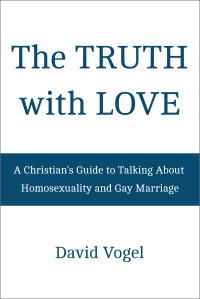 Do you wish you had a better answer for those who ask why Christians seem so "intolerant" toward our gay neighbors? Are you unsure how to witness to and pray for a gay coworker or friend? Or maybe you've found yourself wondering if we can really be sure what our Father actually thinks about all this. Is God's word to our LGBT friends clear? Or have social conservatives stretched things beyond what the Bible actually says?
If you're looking for clear, practical biblical guidance for thinking and talking about homosexuality and same-sex marriage as a Christian, then The Truth with Love: A Christian's Guide to Talking About Homosexuality and Gay Marriage is for you. I've packed this short book with Bible references and written it in an accessible, conversational format to equip you to give an answer to those who ask.
"An excellent introduction to this crucial issue."
— Marvin Olasky, editor-in-chief for World
The Truth with Love begins with a look at the Bible's consistent message, from Genesis to Revelation, about sex, marriage, and homosexuality. Chapter 3 tackles the tough question of why a loving God would forbid same-sex sexual intimacy, giving a thoughtful answer for Christians and non-Christians alike who struggle with this question. Chapter 4 considers what Bible-believing Christians should say to homosexual friends and neighbors, depending on whether they are professing believers and whether they are repentant. Finally, Chapter 5 takes a look at the thorny legal questions of same-sex marriage and nondiscrimination laws and what a Christian citizen can and should do.
Buying Options
The Truth with Love: A Christian's Guide to Talking About Homosexuality and Gay Marriage can be purchased from Amazon.com in paperback or Kindle ebook format. Click here to buy on Amazon.